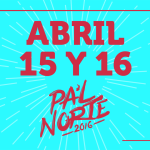 Summer Festivals announced, New Acoustic video, Church Sweaty…
Alright, how's it going?
HERE"S WHATS BEEN GOING ON WITH US:
We spent the night before Valentine's
getting sweaty with 300 people in a church. So, you know, that's another thing off the bucket list. The Kilfinane church gig with Revelations Rocks was bonkers –at one stage there were four different people up on shoulders going mental. That's only very rarely happened at any church we've been to before. Check out John's tweet video * here * for proof of the madness!
Its great to see local venues take a risk to do something different, and special –these boys definitely know what they're doing, take a trip down to Kilfinane's Old Chapel and check out their next show down there.
IN OTHER NEWS: After heading to Mexico in April we are playing a BUNCH of Spanish festivals, which we're really looking forward to, here are the first announcements:
Pa'l Norte, Monterray – 16/4
Polifonik sound, Huesca – 24/6
Emdiv, Alicante 25/6
Ojeando, Marbella – 1/7
Sonorama, Aranda De Duero 12/8
You can check out tickets in the shows section!
Spain has been a second home for us recently, and feels so special to be back there, some of our best memories are from playing
Spanish festivals. We are very fortunate to be invited back and made feel so welcome! In amongst that is a very special gig in Ardgillan Castle at the Raveloid Festival – an Irish Language themed festival at the start of June. As well as being a great big festival in North County Dublin where we're from, it's also got a unique spin with the focus on Gaeilge – It's going to be magic.
Otherwise we stuck up this new video of Valley Where the Rivers Run recorded by Mindies in Barcelona! Have a look:

We are working on new tunes in our spare time, which is the bizz.
Anyhow, give us a shout on Twitter, Facebook or Instagram – we'll be posting stuff up soon
Speak to you soon!
Níal
+ Delos