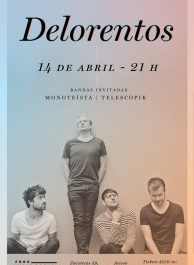 MEXICO SHOW ANNOUNCEMENTS (+ w/Two Door Cinema Club!)
We are really excited to announce we'll be playing MORE SHOWS IN MEXICO, including a headline show in Mexico City and a show with Two Door Cinema Club in Guadalajara! This is especially poignant for us as the last show we played before we (briefly) broke up in 2009 was with Two Door Cinema Club in Belfast. Since then we've released 3 more albums, won the Choice Music Prize and have played in North America, all across Spain and Western Europe, as well as Russia! The fact that we are now touring in Mexico feels like a big achievement to us and we are immensely proud!
14/April: Foro IndieRocks, Mexico DF (tickets here)
16/April: Pal Norte, Monterrey (tickets here)
20/April: Teatro Estudio Cavaret, Zapopan, Guadalajara (tickets here)
We fly into Mexico City on April 13th, and will be playing our own show in Mexico DF on the 14th, Pal Norte Festival, Monterrey on the 16th and Guadalajara with TDCC on the 20th! We've been planning on coming to Mexico for years, ever since our pal BenShorts has been promoting our music over there (we bumped into each other at St. Patricks' day in the Jameson Distillery YEARS ago!). We will make sure to share as much as possible what's going on as it happens, and promise the shows will be worth the wait! In the meantime, we'll be sending BenShorts some videos (and he's sending some back) -you can keep an eye out for them on our (facebook) (twitter) or (instagram)

We've got some other really cool stuff coming up, including a new video, more Irish gig announcements, plus something very secret happening very soon.. keep an eye out!
Níal