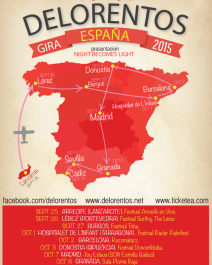 Spanish Tour + Everybody else gets wet video!
Hi!
So the big news is that we've announced our Spanish tour for September and October – and it's looking pretty class!
We're starting off in Lanzarote and travelling all over until we hit Cádiz, stopping at amazing venues like Razzmatazz and the Joy Eslava and many more along the way. Every since we've been going to Spain, and going to other gigs apart from our own, we've had venues that we wanted to play in, we're lucky enough to have played in some already, and we can add the Joy Eslava, Madrid to that. It is a peach of a spot.
We can't begin to tell you how excited we are to bring Night Becomes Light to Spain, so we'll just tell you we'll see you there! you can get your tickets here: [entradas].
Here are the dates:

25/09 ARRECIFE (LANZAROTE). Festival Arrecife en Vivo.
26/09 LÉREZ, PONTEVEDRA. Festival Surfing The Lérez
27/09 BURGOS. Festival Tribu.
01/10 TARRAGONA. Festival Radar Palmfest.
02/10 BARCELONA. Razzmatazz.
03/10 DONOSTIA (GIPUZKOA). Festival Donostikluba.
07/10 MADRID. Joy Eslava (SON Estrella Galicia)
08/10 GRANADA. Sala Planta Baja.
09/10 SEVILLA. Sala X.
10/10 EL PUERTO DE SANTA MARÍA (CÁDIZ). Festival Monkey Week.
We've got loads more stuff to announce soon at home, so we're going to be busy. In the meantime we've released Everybody Else Gets Wet as a single, and our friend, the mighty Kevin Lynch – has made a quirky lyric video to go along with it – check it out:
Finally we're back from some pretty fantastic trips to Canada and Spain, It rained like a bastard in Spain at the deadly Arenal Sound festival and It was too hot to think in Toronto at the TO Beer Festival, so we had the best of both worlds!
Hopefully you're having a great summer, and we'll see you soon…
Remember, If you're looking for awesome VINYL version of Night Becomes Light, they have it in Tower Records, Dublin! [Tower Vinyl]
Please help us out with a share..
Delos x