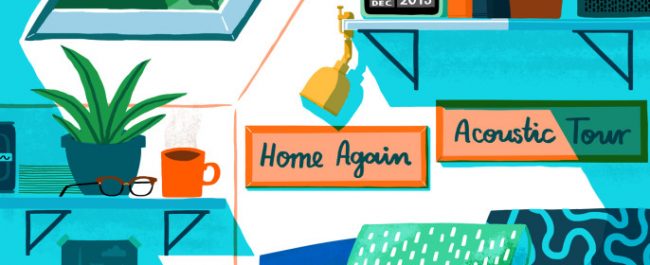 presenting…. The "Home Again" Irish acoustic tour!
Hiya,
As well as our huge Spanish tour (see [here]) we're excited to announce our most adventurous and ambitious tour yet – The Home Again tour! We'll be reworking and re-imagining songs from our four albums, adding to the sound with new instruments and additional players, all in the finest theatres in Ireland!
It's something that we've wanted to do for a while, and we have flirted with in the past, but we've set up something that will be a great show for both you and us. We've put a lot of thought into the songs, the bands playing, the artwork and the venues, so we can't wait to get out and play! For us, reworking songs and going out of our comfort zone is going to be wild.
In addition to playing the exceptional theatres around the Island, we're playing the amazing National Concert Hall, Dublin on the 28th November – and tickets will be on sale from FRIDAY. All other shows are now on sale, including Cork, Waterford, Galway, Limerick and Killarney, and returning to Donegal, Belfast, Kilkenny and Sligo; so grab your tickets now!
Confirmed dates for "Home Again – Acoustic Tour" are:
Sat Nov 21- Balor Arts Centre, Donegal balorartscentre.com Box Office: 074 91 31840
Sun Nov 22- Hawkswell Theatre, Sligo hawkswell.com Box Office: 071 9161518
Thurs Nov 26- Theatre Royal, Waterford theatreroyal.ie Box Office: (0)51 874 402
Fri Nov 27- The Empire, Belfast thebelfastempire.com / ticketmaster.ie / 028 9024 9276
Sat Nov 28- The National Concert Hall, Dublin nch.ie / Box Office: (0)1 417 0000
Thurs Dec 03- Town Hall Theatre, Galway roisindubh.net / tht.ie / 091 569777
Thurs Dec 10- The Set Theatre, Kilkenny set.ie / Box Office: 056 7721728
Fri Dec 11- INEC, Killarney inec.ie / ticketmaster.ie Box Office: 064 66 71555
Sat Dec 12- Lime Tree Theatre, Limerick limetreetheatre.ie / Box Office: 061 774774
Sun Dec 13- Everyman Theatre, Cork everymancork.com / Box Office: (021)4501673
We're also playing a special acoustic Show in the Spiegeltent Wexford – in the round – on the 18th October! Tickets here: Wexford Spiegeltent.
Anyway, we're going to be very busy for the next three months, plus there's loads more stirring stuff to come – hopefully we can see you out there!
Kieran + Delos x