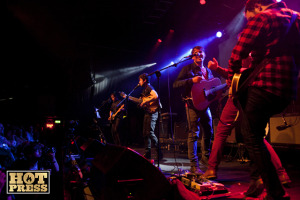 Night Becomes Galway, Cork and London!
Hi!
So we've played two of our favourite gigs ever over the past month, two of our biggest, in the Savoy Cork and the Seapoint Ballroom, Galway. They were really special, we were all sorts of nervous and excited beforehand and it was amazing to play and hear everyone singing back to us. It was pretty much the closest thing to a religious experience we'll ever have, apart from some sort of SuperMass that hasn't been invented yet.
Rory from the Thin Air magazine was there and took these photos! (more here: aaa-delorentos-savoy-cork)
Simply put, thank you to all who came out!
We've had a pretty busy few weeks, both with gigs (like Tony Fenton's big send-off and supporting Yes marriage equality in Whelans, plus Feile ne Bealtaine & Vantastival), and with setting up the next single and the summer, but we're currently most excited about our SOLD OUT show in the 100 Club London on Wednesday 20th May! We haven't played in London in a few years (too long) so we're so happy to be back and it'll be a big one, wait and see!
All that's left to say is that it's been a happy 6 months since we released "Night Becomes Light", our biggest ever Irish & Spanish headline shows, lots of new friends, lots of lovely awards and love and we can't thank you enough. here's to the next 6 months and 6 years of the album!
Plug: If you'd like to get a copy delivered (cd & Vinyl!) visit here: SHOPSHOPSHOP
OH, and we did this for the Joe.ie / Her.ie Sunday Sessions!
Anyways, hope you're good and see you at a gig soon.. there's plenty coming up…. x
K & Delos. ps VOTE YES #Straightupforequality
Go here for more: facebook / twitter