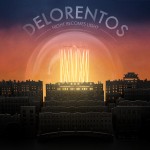 New News: Universal deal, New Artwork!
Hiya –
We've been pretty quiet of late, with a few secret shows the only peeks into the night during the finishing of our fourth album. That's about to change, but firstly we have some news!
So, We're excited to announce that we've signed a deal with Universal Music to release our new album "Night Becomes Light".
We revealed the new album artwork on, Saturday at INDIEPENDENCE Music & Arts Festival (check it out!) and we'll give you details of the album release and touring plans very soon!
Stay tuned and we'll let you know everything as we start moving. It's going to be fun. 🙂
delos x