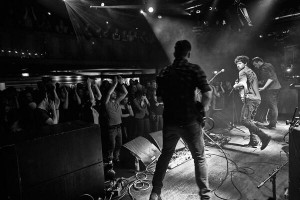 Happy June!
We've been busy behind the scenes writing, mixing and working away on new songs and we're beginning to emerge blinking from our underground music bunker. The good news is that our new songs are beginning to come into their own, and it's time to start showing our work in public!
Last month saw us play new tunes at shows in Munich and a number of Irish college balls, and that seemed to go well, so over the next two weeks we're going a step further and playing a few small intimate gigs in Ireland.
This Friday June 6th we're in Kasbah Social Club, Limerick and Saturday we're in Coughlans, Cork City.
Each gig is *very* limited attendance and tickets are €5 for Limerick and €10 for Coughlans.
([ http://twitter.com/kasbahsocial ] – Tickets €5 from [ www.dolans.ie ] / [ [ http://twitter.com/coughlanslive ] – Tickets €10 from [ www.entertainment.ie ])
We're also playing next week, in the [ Roisin Dubh, Galway ] on Thursday 12th June for their 5th birthday – that's gonna be a party.
We'll be playing some new youthful songs, along with other, more experienced songs.
Hopefully see you there and keep an eye out for more…
In other creative news, bassman Nial has begun podcasting his Weekly General Meetings (WGM) with his talented mistress Shane Langan on [click here] – definitely worth a listen.
Finally, thanks again to everyone who got our recent Record Store Day release of "Unbroken, Untied"; we sold out all physical copies in less than 4 hours. Hopefully if you got one you enjoy it!
See you this weekend and thank you for reading!
Kieran
+ delorentos