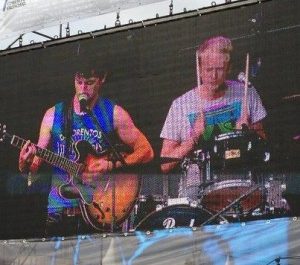 Four new videos!!! Santander and Indiependence
Hiya, lots to tell you about!
Firstly, On July 3rd we decided to do something we called "CareFor" day. We asked people what they care for and to show us, and we received tons of photographs and messages, so we decided to put this old school slide show together, accompanied by a beautiful cover version sent to us from Spain!

We'd amazing shows in Razzmatazz and Benicassim, meeting some of our heroes in the guise of the Stone Roses and Mr Noel Gallagher. We would show you the embarrassing fan pics but y'know, lets just imagine awesome people hanging out together and move on.
Check out this video made by the excellent Razzmatazz film crew:
On top of that; we return to Spain this weekend for the Santander Festival – we're playing on Friday night and really looking forward to it, as well as being a great lineup, its a beautiful part of the world. We've been lucky to visit Spain many times this year – and with Dates in San Sebastian and Murcia just announced we'll be be back a few more times before the end of it!
Another highlight is happening Sunday when we return to the Indiependence festival in Cork, one of the best festivals in Ireland and we cannot wait! We'll see you Sunday night!
Also, Last week we played our biggest ever Acoustic Show in Dun Laoghaire's Pavilion Theatre, and it was pretty special. We're planning a few more, and hopefully some recordings of the alternate versions, and we'll let you know about these as they happen. We also uploaded another Little Spark Acoustic video last week for 'Pace Yourself' as part of the year long project:

Phew – loads of stuff going on! Including a sale of new t-shirts on our bandcamp page: delorentos.bandcamp.com . Finally, we're very proud to have a snippet of our video "Secret", directed by Eoghan Kidney, included in this retrospective of Gay culture in Irish film and media. It was the first gay kiss in a music video (woo!) and it pops up near the end of this moving piece:

Take care and thanks for listening!
Ro & K
Delos