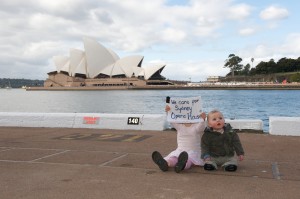 Benicassim & Spain, Dun Laoghaire, & Care For!
Good news!
We're pretty excited to let you know our buzz- we're working away on acoustic songs and recordings at the moment which is both stressful and exciting, the songs are sounding very good and we'll have more videos and stuff for you soon! In the meantime check out the *exclusive* Special offer we have going on our bandcamp site: http://delorentos.bandcamp.com/ and grab the last few t-shirts left before we restock – *just €5* – sale sale sale!
This weekend we heading back to Spain again, on Friday we're playing the awesome Razzmatazz in Barcelona (after midnight) and on Saturday we return to Benicassim to play the Main stage at 7pm.
It's going to be a incredible event, and we're honing our set for the show now, and learning our monkey dances for The Stone Roses show later.
As well as playing at the event we'll be participating in a Bob Dylan Documentary being shot at the time for HBO called "It's All Over now, Baby Blue". Us and Noel Gallagher.. not too shabby.
🙂

After we come back we're very excited to be performing a headline acoustic show in Dun
Laoghaire's Pavillion Theatre. The show is titled an Intimate and Acoustic Evening and tickets are selling fast, grab one here: http://paviliontheatre.ticketsolve.com/shows/2012/7/28
Over the past week we've done lots of cool promotional stuff for our single Care For – from playing on ATL on BBC Ulster to Newstalk, Spin South West and even the Volvo Ocean Race. We even asked people on twitter and facebook what they #carefor and we were overwhelmed by the response!
We even ended up trending on twitter, which was unexpected… It wasn't really designed to be promotional though, it was more to get a good feeling going for the day.
Luckily it seems to be working and the song has been added to the playlists of Today FM and 2FM: If you'd like to hear it please text or tweet your favourite dj!
Here's the video in case you haven't seen it already for Care For:
Thanks for reading and see you soon!
Delos