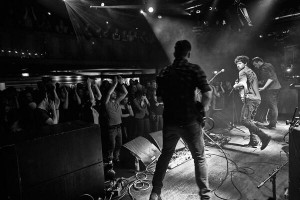 All roads lead to Vicar St, Dublin & Other Voices, Kerry!
Hi!
Since the start of the tour Vicar St has sat on the horizon waving at us, and we've been looking forward to it as we tweaked and worked out the songs from Night Becomes Light – i dunno why Dublin gigs are so heightened for us, i suppose because they're hometown gigs, but as the days get closer the mild nerves and excitement start to rise until the moment that "Ready to Start" by Arcade Fire begins, and we're standing beside the stage, warming up our fingers…
If there are still tickets left, you need to > click here < now!
As well as the gigs, we've been around the country talking to radio and TV folk and this week has been no different, and as we get closer to Christmas we've been doing some festive songs on the radio! Check out our version of Winter Song on Nova… or All i want for Christmas is you on 2FM for their Radiothon… (thanks to Marty & Rick!)
The Big bonus this year is that we've been invited to Other Voices in Dingle – we can't overstate how exciting this festival is for us, we've been before and cannot wait to play again. The line-up, as ever, is amazing. (Plus the added joy of meeting Peter "littlefinger" Baelish…) We're playing two gigs in Dingle – one at the Music Trail on Saturday night, and then in St James Church!
Needless to say, the year is gonna end on a highlight!
Finally, end of year lists are starting to be made and we're lucky enough to be mentioned in a few, you can vote here if you like: > Irish Times Ticket Awards < and  >The Last Mixed Tape Awards<. If you like, of course.
Hopefully See you soon, we're off to warm up our fingers some more…
Delorentos