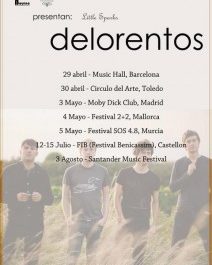 Spanish Tour, JD Roots, Pieta House & Bandcamp!
On 29th April we play the first gig of our Spanish Tour and Launch Little Sparks in Barcelona! Yesss!
We're playing 7 shows on this trip, including Barcelona, Toledo, Salamanca, Madrid, the 2+2 fest and the SOS 4.8 fest, as well as performing on Los Conciertos de Radio 3 – Spanish Jools Holland show.
Later in the summer we're also playing the Main stage at Benicassim: the same stage as Bob Dylan, the Stone Roses, De la Soul and New Order this year! http://fiberfib.com/ <– One of the best festivals we've been at.. get your flights now!
all the links and gigs can be found in our shows section. See you there!
29/04/12 Barcelona, Sala Music Hall
30/04/12 Toledo, CIRCULO DE ARTE, PLAZA DE SAN VICENTE, 2.
03/05/12 Madrid, Moby Dick, Av. Brasil 5, metro Santiago Bernabeu.
04/05/12 Madrid, Los Conciertos de Radio 3, PRADO DEL REY. (TV)
04/05/12 Mallorca, 2+2 Festival, Palma de Mallorca.
05/05/12 Murcia, Festival SOS4.8
We're also being featured on the Estrella Beer and Sos 4.8 ads, like this one:


Also – on 18 May we're playing the JD Roots show, a collaborative show with WeCutCorners and the Minutes in Dublin.
Tickets are limited for this, and you can only get them through www.jdroots.ie <-get one before they go.

We're also very proud to be included in a new compilation to support Pieta House, The Centre for the Prevention of Self-Harm or Suicide charity. The compilation is called "Life Support", and we've contributed an unreleased new song called "Solo". We'll also be performing acoustically at the launch in the Mercantile on Tuesday 24th April.
More details here: http://www.delphilabel.com/pietahouse/
and Finally – we've put our new album "Little Sparks" onto our shop at delorentos.bandcamp.com … you can get the physical anywhere in the world now, or gift it to someone else. dead easy!
Thanks for reading,
Hope you're having a good April….
and hopefully see you soon!
Delorentos