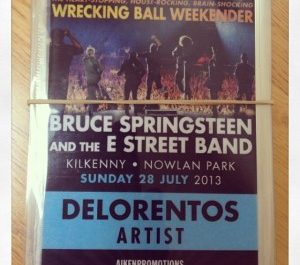 Our amazing Summer is over – Now to write some songs…
Hello, Hola, Guten Tag, Qulag Asiram,
We've been a little quiet of late… We've locked ourselves away to give ourselves time and headspace to follow up Little Sparks. After an amazing summer where we played amazing festivals such as BBK Live, headlined a Bullring at Pulpop and in Benidorm's LowCost festival…
…We also hung around with some pretty cool folk… Neil Hannon from Divine Comedy, The President of Ireland Micheal D Higgins and Mr Bruce Springsteen…
…Plus "Petardu" was featured in the Movie "About Time" and in the new Ad for Google's 10th Birthday!
The good news is that we've been working away and we're currently deep in the creative process; writing, singing and demoing ideas that will soon become our fourth album. (thank you to Camelot Rehearsals in North County Dublin). We don't know right now when it'll be done, but we do know that we're very excited about the ideas and glad to tell you that mister Rob Kirwan, who we worked with on Little Sparks, is back again with us to work on the new album.
That's it for the moment, we've got some other cool stuff in the works and hopefully we'll be able to show you a few tunes when we're on our way. Thanks for all the messages, tweets etc over the past few months…
The next time you see us we'll be onstage at Vicar St, Dublin, on November 1st! (tickets are limited so get yours NOW if you haven't already…) >Click here<
Also: head over to our Bandcamp Shop here: >>>BANDCAMP<<< and for the love of god take some of these cd's off our hands.
cheers for reading!
Kier
Delorentos
Tweets by delorentos
http:///www.facebook.com/delorentosmusic