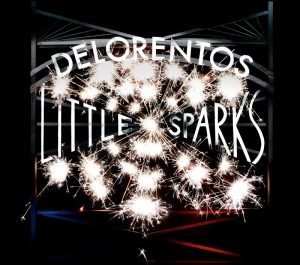 Little Sparks out 27th January… Pre-order Now!
So, here it is; we're delighted to announce: Our new album, "Little Sparks" will be released in Ireland on January 27th!
The tracklisting is:
Did we ever really try?
Bullet in a Gun
Care For
Petardu
Right to Know
Little Sparks
Waited for you so long
Pace Yourself
Give it up now
The stream
Swimmer
Witness in the dark
We're very very proud to be able to share this with you, it's been two and half years in the making and we're delighted with it! (Artwork designed by the very talented M&E). Here are some lovely quotes from the early reviews:
"Full of brave, bracing and emotionally direct songs, it's the sound of a band who have found their musical and lyrical groove."
Jim Carroll, Irish Times

"Little Sparks is not only an album which is Delorentos' best work to date, but one of the finest Irish releases of recent times."
Entertainment.ie 

"An early bid for Irish album of the year… Little sparks is the sound of a group striving to write the flab-free, solid-gold pop record of their lives, mission accomplished."
Hotpress 

"Is it too early to start talking about the best Irish album of the year? Little Sparks is a fantastic record and deserves every ounce of the exposure that looks to be coming it's way."
Metro 

"The sound is more ambitious; bigger and bolder… Some of the more tender songs on the album show just have much Delorentos have matured as songwriters. Wonderful."
Goldenplec.com 
We have set up a special Pre-order here for anyone who would like to get a unique signed physical copy, and we promise to send it anywhere in the world that you like. click here NOW: http://www.towerrecords.ie/product/Delorentos_Little_Sparks/540093
We have also put up our latest Acoustic video from the little sparks sessions: "Care for".

Finally, We have some amazing stuff coming up in the week of release, including secret gigs, and special once off events around the country. (Please sign up for the newsletter above to get exclusive information.)
Our tour kicks off on the 25th Feb – in Dublin, (you can see our dates in the 'shows' section above) and we're looking forward to playing you the songs… see you soon!
Delorentos