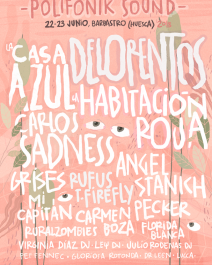 In The Moment, London show, and first Summer FESTIVALS!
Hi!
As we get closer to Album 5 time (oh yes) we're starting to get bold and busy.
Firstly, we're delighted to present (ta-daaah):
Our new video for In The Moment, shot by the Crooked Gentlemen. Thanks guys!
It's a simple song that means a lot to us, with a simple sentiment that bears repeat reminders. We hope you get something from it!
We're currently in the bunker listening to mixes, tweaking artwork, arguing about tracklisting and edits, and hopefully, we'll have a new album for you in a short time. If it's as good as our Stockholm Syndrome says it is, you're in for a treat. 🙂
We've also got a few gigs before the album is released – our Irish tour (songkick.com/delorentos) is onsale, and we've added a London date on St Patricks Weekend!
In Conjunction with The Irish Jam radio show, An Oiche Eile is a night of Alternative Irish Music in Hammersmith, London on March 16th. There's limited availability so get your tickets here: eventbrite.co.uk/e/an-oiche-eile 
It's been a little while since we played London, so we're excited to get back, and we promised we would with some new songs! It's a cracking lineup too, so luckily alcohol isn't something connected to gigs, music, or that weekend. (oh no).
In other big news we've announced our first summer festival, and of course, It's in Spain. Where else? One of the first festivals we played en Espania was Polifonik Sound, and we're so proud and happy to be invited back as headliners a few years later!!! It's on in Barbastro, on the 22nd/23rd June and it's perfect for a weekend away…
Tickets are here: polifoniksound.com/entradas – and you will not be disappointed. We have a lot of gigs and things to tell you about coming up, so keep an eye out.
We've also been announced for the excellent Indiependence 2018! In the fine county of Cork, on the 3-5th August. We've had some of our favourite festival experiences on Deer Farm in Mitchelstown, and we can't wait to form some more. Plus, It's an excellent lineup… Primal Scream!
You can get tickets and more info on indiependencefestival.com while tickets are still available….
It's nice to be back. (oh yes) 🙂
Kieran
Delorentos