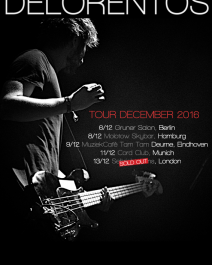 Germany, Netherlands, London Eurominitour!
HOLA!
Next week we tour Germany (Berlin, Hamburg, Munich) which we are really excited about, its been a few years since we played there and we are looking forward to it massively! Since we released Night Becomes Light there we've been plugging away and we can't wait. (tickets here: Eventim.de)
We've also added a special once-off charity show in Muzikcafé Tam Tam, in Deurne, Eindhoven on the 9/12. Netherlands! It almost qualifies as a mini European Tour. 🙂
Then we play a sold out show in the Sebright Arms (after years away from London –now we've played 2 shows in 18 months!) before finishing the year back at the Church of Rock ™ in Kilfinane with Revelations & the nice Raglans fellas. Honestly, it's going to be pretty great. All gig details are up on the site here, have a look!
Last week we visited Mexico City for the second time this year; Here are some thoughts:
Mexico City is an incredible place AND IF YOU HAVENT BEEN THERE YOU SHOULD GO AND VISIT
We opened the festival and shared a kit with Warpaint, a stage with Super Furry Animals, LCD Soundsystem and Kraftwerk!
Mexican beer is awesome
For years and years we had been planning and hoping to tour in Mexico (ever since we started getting emails from people there, and BenShorts started using our music in his videos) and in April we played Monterray, Mexico City, and Guadalajara.. and all of this all resulted in being invited to play Corona Capital, and meeting fans of the band that had been contacting us from Mexico for years!
Actually one of the coolest things was playing an acoustic session in Musica en Vinyl –a really cool local record shop that make their own beer, coffee and HiFi amps. We met people that saw us play with Two Door Cinema Club in Guadalajara (who traveled to see us) and brought us cool food and home-made posters like this awesome one!
We have found the best sandwiches IN THE WORLD (it should be said Mexico City has some of the best food in the world)
2016 has been a frustrating year for a lot of reasons for many people but as we look back we should be grateful:
This has been a big year for us, releasing Night Becomes Light in Mexico, Germany and the UK and we've found the time to work on some new songs with Tommy (Villagers, Soak) and Richie (Jape, Redneck Manifesto) AND finish a few other special projects (more on that soon)..
Hopefully Christmas will be great and awesome for you all, in the words of Bill and Ted:
"Be excellent to each other"
Nial // Delorentos