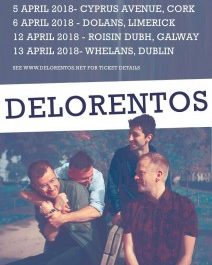 April Shows announced + NEW MUSIC!
NEWS!
We've just announced we're playing some intimate shows in April: Cyprus Avenue, Cork; Dolans, Limerick; Roisin Dubh, Galway; and Whelans, Dublin. As well as being some of our favourite venues in the country, We'll be playing new music and trying out new cool guitar poses we've been working on.
As well as that, we're very excited that our new single "In Darkness We Feel Our Way" with Richie Egan (Jape) has been released to radio… listen out for it over the next few days! Tis a fine thing.
We'll update this post with links on Friday for the gigs! (Might be a good time to join our mailing list, up the top of the page…)
K + Delos