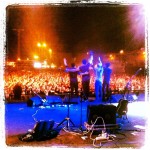 2012, Choice nomination, and this year!
Hiya!
2012 was an incredible year for us – and we can only say thank you for all your support.
Today we found out we've been nominated for the Choice Music Prize for Ireland's best album of 2012, and we couldn't be happier! >>choicemusicprize.com/ Thank you to the Judges, it's really capped off a great year. It's our second nomination and we're delighted to be heading back to Vicar St.
The release of Little Sparks was very exciting, from the reaction and reviews of the album, to all the creative things that we did – and continue to do – around the songs.
Throughout 2012; we released a creative magazine to accompany our first single (which you can see below), we opened pop-up shops around Ireland to release our album, and we released a Podcast (https://soundcloud.com/delorentos) to detail the workings of the making of the album.
We also had a day of positivity online, asking you to tell us what you Care for!

Plus we started our Acoustic project, and we continue to put up acoustic reworkings of our songs…

As well as this we had incredible shows all over Ireland, Spain and Europe, including amazing gigs at Benicassim, Electric Picnic, The ReeperBahn fest, SOS fest and in a huge Spanish Bullring. Thank you for coming and good to meet you.
🙂
The great news is that "Little Sparks" has been nominated in lots of end of year polls (thank you!) and, as well as the Choice, is up for two "Eric" awards from Entertainment.ie; for best band and best album. (we're playing the Eric awards next Wednesday 16th in Dublin- visit that link for tickets!).
This coming year looks like being a busy one, we're already confirmed for two of the world's best music festivals: SXSW in Texas and CMW in Toronto, Which we'll be visiting in mid-March. There's a massive red circle around those dates…
We'll be playing some shows in Berlin, Hamburg, and Amsterdam with the mighty Bell X1, at the end of January, and are already booked for a slew of great Spanish Festivals in the Summer!
As ever if you'd like to have our (Multi-award nominated :)) album "Little Sparks" or something else please visit our bandcamp store now.
Goodbye 2012, we love you, hello 2013! x
Delorentos
delorentos.net